About Us
Taste of India is a Indian takeaway in London. Why don't you try our King Prawn Balti or Butter Chicken?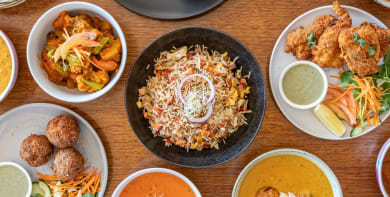 Reviews
50 reviews
George
"Always on time and food always hot and tasty great service."
11/09/2020
KC
"Food was great and amazing portions!! However when it arrived it had been spilt all over the bag and through to the plastic bag which was just sopping wet. Made it for a very messy meal."
18/08/2020
Duncan
"Very nice food! Recommended."
17/08/2020
Ollie
"Delicious food and a great value for money that was delivered on time. What more could you want!"
16/08/2020
Menu
Mixed Starter
Chicken tikka, lamb tikka & seekh kebab
£5.25
Samosa Starter (2) Vegetable
£3.25
Tikka Starter Chicken
Pieces of lamb or chicken tikka marinated on tandoori sauce & grilled
£4.25
Tikka Starter Lamb
Pieces of lamb or chicken tikka marinated on tandoori sauce & grilled
£4.25
Seekh Kebab Starter
Delicious kebabs of minced lamb, fresh herbs & condiments
£4.25
King Prawn Butterfly Starter
£5.25
Prawn Puri Starter
Prawn cooked with sweet sour & hot taste served on puri
£5.25
King Prawn Puri Starter
King prawn cooked with sweet sour & hot taste served on puri
£5.25
Kebab Roll Starter
Served with fresh salad & naan bread
£5.75
Chicken Tikka Roll Starter
With fresh salad & naan bread
£5.75
Tikka Chicken
Ever popular Indian delight. Fillets of chicken or lamb tikka dipped in marinated garlic, yoghurt & spices, roasted on flame
£7.95
Tikka Lamb
Ever popular Indian delight. Fillets of chicken or lamb tikka dipped in marinated garlic, yoghurt & spices, roasted on flame
£7.95
Tandoori Chicken Half
One of the most exotic oriental specialities. Juicy chicken grilled to perfection
£6.95
Tandoori Chicken Full
One of the most exotic oriental specialities. Juicy chicken grilled to perfection
£9.95
Shashlik Chicken
Russian delicacy adopted & improved by the native of sub-continent. Chicken or lamb fillets, onion tomatoes & capsicums marinated in smooth spices, chargrilled
£8.95
Shashlik Lamb
Russian delicacy adopted & improved by the native of sub-continent. Chicken or lamb fillets, onion tomatoes & capsicums marinated in smooth spices, chargrilled
£8.95
Tandoori Mixed Grill
Served with naan. A galaxy of tandoori grills, simply hard to resist
£11.50
Tandoori King Prawn
Jumbo prawns rolled in tandoori spices & boiled on skewer
£11.95
Curry Chicken
Medium strength & lightly spiced with thick gravy
Medium
£7.25
Curry Meat
Medium strength & lightly spiced with thick gravy
Medium
£7.95
Curry Prawn
Medium strength & lightly spiced with thick gravy
Medium
£7.50
Curry King Prawn
Medium strength & lightly spiced with thick gravy
Medium
£8.95
Madras Chicken
Fairly hot dish, slightly spiced
Very hot
£7.25
Madras Meat
Fairly hot dish, slightly spiced
Very hot
£7.95
Madras Prawn
Fairly hot dish, slightly spiced
Very hot
£8.00
Madras King Prawn
Fairly hot dish, slightly spiced
Very hot
£8.95
Vindaloo Chicken
Very hot dish cooked with potatoes
Very hot
£7.50
Vindaloo Meat
Very hot dish cooked with potatoes
Very hot
£8.50
Vindaloo Prawn
Very hot dish cooked with potatoes
Very hot
£8.00
Vindaloo King Prawn
Very hot dish cooked with potatoes
Very hot
£9.00
Bhuna Chicken
Medium spicy, well cooked with thick gravy & tomatoes
Medium
£7.50
Bhuna Meat
Medium spicy, well cooked with thick gravy & tomatoes
Medium
£8.50
Bhuna Prawn
Medium spicy, well cooked with thick gravy & tomatoes
Medium
£8.50
Bhuna King Prawn
Medium spicy, well cooked with thick gravy & tomatoes
Medium
£9.00
Korma Chicken
A mild sweet dish cooked with grounds almond & coconut in a creamy sauce
£7.95
Korma Meat
A mild sweet dish cooked with grounds almond & coconut in a creamy sauce
£8.50
Korma Prawn
A mild sweet dish cooked with grounds almond & coconut in a creamy sauce
£8.50
Korma King Prawn
A mild sweet dish cooked with grounds almond & coconut in a creamy sauce
£9.45
Rogan Josh Chicken
A medium spicy dish cooked with herbs, plump tomatoes & spring onions & thick gravy sauce
Medium
£7.25
Rogan Josh Meat
A medium spicy dish cooked with herbs, plump tomatoes & spring onions & thick gravy sauce
Medium
£8.50
Rogan Josh Prawn
A medium spicy dish cooked with herbs, plump tomatoes & spring onions & thick gravy sauce
Medium
£8.50
Rogan Josh King Prawn
A medium spicy dish cooked with herbs, plump tomatoes & spring onions & thick gravy sauce
Medium
£9.45
Dansak Chicken
Slightly hot sweet & sour with lentils & herbs
Very hot
£7.50
Dansak Meat
Slightly hot sweet & sour with lentils & herbs
Very hot
£8.50
Dansak Prawn
Slightly hot sweet & sour with lentils & herbs
Very hot
£8.50
Dansak King Prawn
Slightly hot sweet & sour with lentils & herbs
Very hot
£9.45
Dopiaza Chicken
An elegant dish cooked with medium spice, garnished & extra onion
Medium
£7.25
Dopiaza Meat
An elegant dish cooked with medium spice, garnished & extra onion
Medium
£8.50
Dopiaza Prawn
An elegant dish cooked with medium spice, garnished & extra onion
Medium
£7.95
Dopiaza King Prawn
An elegant dish cooked with medium spice, garnished & extra onion
Medium
£9.45
Korai Chicken
Cooked with onion, capsicum, coriander & fresh herbs thick sauce (Medium)
Medium
£8.00
Korai Meat
Cooked with onion, capsicum, coriander & fresh herbs thick sauce (Medium)
Medium
£8.95
Korai Prawn
Cooked with onion, capsicum, coriander & fresh herbs thick sauce (Medium)
Medium
£8.50
Korai King Prawn
Cooked with onion, capsicum, coriander & fresh herbs thick sauce (Medium)
Medium
£9.45
Jalfrezi Chicken
Chopped onion, ginger, capsicum, tomatoes, green chilli & homemade special sauce (Very Hot)
Very hot
£8.00
Jalfrezi Meat
Chopped onion, ginger, capsicum, tomatoes, green chilli & homemade special sauce (Very Hot)
Very hot
£8.95
Jalfrezi Prawn
Chopped onion, ginger, capsicum, tomatoes, green chilli & homemade special sauce (Very Hot)
Very hot
£7.95
Jalfrezi King Prawn
Chopped onion, ginger, capsicum, tomatoes, green chilli & homemade special sauce (Very Hot)
Very hot
£9.45
Sagwala Chicken
Medium spiced, cooked with baby spinach (Medium)
Medium
£7.45
Sagwala Meat
Medium spiced, cooked with baby spinach (Medium)
Medium
£8.95
Sagwala Prawn
Medium spiced, cooked with baby spinach (Medium)
Medium
£7.95
Sagwala King Prawn
Medium spiced, cooked with baby spinach (Medium)
Medium
£9.45
Masala Chicken Tikka
As chicken or lamb tikka masala varies from house to taste of India (Mild)
£8.50
Masala Lamb Tikka
As chicken or lamb tikka masala varies from house to taste of India (Mild)
£8.50
Shatkora Chicken
Juicy pieces of chicken or lamb cooked with Calamansi citrus. A firm favourite of Bengal
Medium
£8.25
Shatkora Lamb
Juicy pieces of chicken or lamb cooked with Calamansi citrus. A firm favourite of Bengal
Medium
£8.25
Naga Murgh
Marinated chicken & herbs in a rich sauce with the unique aroma of the Bengali naga chilli (Very Hot)
Very hot
£8.50
Xacutti Chicken
Chicken or lamb, the most complex of all great curries, xacutti boasts over twenty ingredients each roasted individually prior to being ground, that contribute to its unique flavour & body. A speciality of exotic Goa (Very Hot)
Very hot
£8.25
Xacutti Lamb
Chicken or lamb, the most complex of all great curries, xacutti boasts over twenty ingredients each roasted individually prior to being ground, that contribute to its unique flavour & body. A speciality of exotic Goa (Very Hot)
Very hot
£8.25
Pasanda (Mild) Chicken
Thin fillets of chicken or lamb simmered in a mace of almond pistachios & flavoured with saffron
£8.50
Pasanda (Mild) Lamb
Thin fillets of chicken or lamb simmered in a mace of almond pistachios & flavoured with saffron
£8.25
Tandoori Mixed Masala
As chicken tikka masala varies from house to taste of India, chicken tikka, lamb tikka & seekh kebab. Recommended (Mild)
£9.95
Butter Chicken
Tiny pieces of chicken cooked in a blend of spices with cream & butter & topped with chef's special mild sauce (Mild)
£8.25
Tandoori King Prawn Masala
King prawns cooked in the tandoori oven mildly spiced & simmered in a combination of mixed herbs. Sweet basil & coconut cream. Recommended
£11.75
Garlic Chilli Masala Chicken
Barbecued chicken or lamb cooked with onion, green pepper flavour with special chef made garlic & chilli sauce (Very Hot)
Hot
£8.50
Garlic Chilli Masala Lamb
Barbecued chicken or lamb cooked with onion, green pepper flavour with special chef made garlic & chilli sauce (Very Hot)
Hot
£8.50
Mirchi Lamb
Sliced fillets of lamb selected with red pepper fresh ginger, herbs & chillies (Very Hot)
Hot
£8.25
Rezala Chicken
Tikka cooked in tandoori spiced sauce with fresh green chillies, diced onion & pepper
Hot
£8.50
Rezala Meat
Tikka cooked in tandoori spiced sauce with fresh green chillies, diced onion & pepper
Hot
£8.50
Set Meal For 1
1 Poppadom
Chicken tikka starter
Chicken tikka masala
Bombay aloo
Pilau rice
Plain naan
Salad & mint sauce
£16.95
Set Meal For 2
2 Poppadoms
Chicken tikka starter
Seekh kebab (2 pieces)
Chicken tikka masala
Lamb rogan josh
Mushroom bhaji
Muttar paneer
Pilau rice
Garlic naan
Salad & mint sauce
£27.95
Meal Deal A
1 Onion Bhaji
1 Chicken OR lamb madras
1 Bombay aloo
1 Pilau rice
1 Mint sauce
£12.95
Meal Deal B
1 Poppadom
1 Meat samosa
1 Chicken or lamb korma
1 Saag aloo
1 Pilau rice
1 Salad & mint sauce
£13.95
Meal Deal C
1 Poppadom
1 Onion bhaji
1 Chicken OR lamb karahi
1 Chana masala
1 Mushroom rice
1 Garlic naan
1 Mint sauce
£14.95
Chutney Tray
Mint sauce, mango chutney, mix pickle & onion salad
£1.95
Chutney Mango Chutney
Each
£0.70
Chicken Chilli Masala Balti
£9.50
Keema Naan
Leavened bread stuffed with seasoned minced lamb
£2.95
Peshwari Naan
Stuffed with almonds, coconut & sultanas
£2.95
Spicy Cheese Naan
Stuffed with cheese & crunched red chilli
£2.95
Kulcha Naan
Stuffed with mix vegetable & coriander
£2.95
Special Rice
Mixed with egg & green peas
£3.75
Kerala Egg Rice
Mixed with egg
£3.75
Vegetable Tikka Masala - Main
£6.50
Paneer Tikka Masala - Main
£6.50
Vegetable Dansak - Main
Medium
£6.50
Vegetable Jalfrezi - Main
Hot
£6.50
Vegetable Rogan Josh - Main
£6.50
Mixed Vegetable Curry Side
£4.75
Mixed Vegetable Curry Main
£6.50
Bombay Aloo Side
Spicy potato with fresh green herbs
£4.75
Bombay Aloo Main
Spicy potato with fresh green herbs
£6.50
Bhindi Bhaji Side
Fresh okra gently simmered in olive oil
£4.75
Bhindi Bhaji Main
Fresh okra gently simmered in olive oil
£6.50
Cauliflower Bhaji Side
With tomatoes & coriander
£4.75
Cauliflower Bhaji Main
With tomatoes & coriander
£6.50
Tarka Daal Side
Garlic based lentils in chef's own recipe
£4.75
Tarka Daal Main
Garlic based lentils in chef's own recipe
£6.50
Paneer Chilli Masala - Main
Indian cheese cooked with green chilli
Medium
£6.50
Baingon Aloo Side
Fresh aubergine cooked with onion, tomatoes & potatoes
£4.75
Baingon Aloo Main
Fresh aubergine cooked with onion, tomatoes & potatoes
£6.50
Aloo Gobi Side
Cauliflower & potatoes gently cooked in herbs
£4.75
Aloo Gobi Main
Cauliflower & potatoes gently cooked in herbs
£6.50
Mushroom Bhaji Side
Fresh button mushrooms
£4.75
Mushroom Bhaji Main
Fresh button mushrooms
£6.50
Brengol Bhaji Side
Fresh aubergine
£4.75
Brengol Bhaji Main
Fresh aubergine
£6.50
Saag Aloo Side
Spinach & potatoes flavoured with fenugreek
£4.75
Saag Aloo Main
Spinach & potatoes flavoured with fenugreek
£6.50
Chana Masala Side
Chickpeas & onion skillfully spiced
£4.75
Chana Masala Main
Chickpeas & onion skillfully spiced
£6.50
Mattar Paneer Side
Green peas & cheese with cream
£4.75
Mattar Paneer Main
Green peas & cheese with cream
£6.50
Saag Paneer Side
Mild spinach cooked with Indian cheese
£4.75
Saag Paneer Main
Mild spinach cooked with Indian cheese
£6.50
Contact Us
Find Us
334 Kennington Road, London, SE114LD
We deliver to
SE1, SE11, SE14, SE15, SE16, SE17, SE22, SE23, SE24, SE4, SE5, SW1P, SW1V, SW2, SW8, SW9