About Us
Taste of India is a Indian takeaway in London. Why don't you try our King Prawn Balti or Butter Chicken?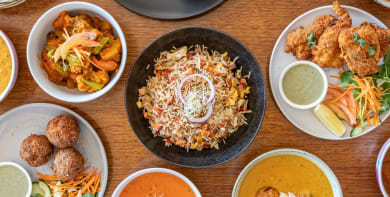 Reviews
43 reviews
Hayley
"Everything was lovely but the mint dip I ordered tasted like it was turned so went in the bin bit disappointed but overall lovely food"
28/07/2020
Euan
"Lovely meal. Good value. Restaurant got busy so they text us to say they were running a bit late - but only by 5 minutes or so. Friendly driver."
23/07/2020
George
"The food was delivered early and it was hot and very very tasty ,I will be ordering again from the resteraunt"
20/07/2020
Coral
"Great delicious food reasonably priced and delivered on time."
18/07/2020
Menu
Mixed Starter
Chicken tikka, lamb tikka & seekh kebab
£5.25
Samosa Starter (2) Vegetable
£3.25
Tikka Starter Chicken
Pieces of lamb or chicken tikka marinated on tandoori sauce & grilled
£4.25
Tikka Starter Lamb
Pieces of lamb or chicken tikka marinated on tandoori sauce & grilled
£4.25
Seekh Kebab Starter
Delicious kebabs of minced lamb, fresh herbs & condiments
£4.25
King Prawn Butterfly Starter
£5.25
Prawn Puri Starter
Prawn cooked with sweet sour & hot taste served on puri
£5.25
King Prawn Puri Starter
King prawn cooked with sweet sour & hot taste served on puri
£5.25
Kebab Roll Starter
Served with fresh salad & naan bread
£5.75
Chicken Tikka Roll Starter
With fresh salad & naan bread
£5.75
Tikka Chicken
Ever popular Indian delight. Fillets of chicken or lamb tikka dipped in marinated garlic, yoghurt & spices, roasted on flame
£7.95
Tikka Lamb
Ever popular Indian delight. Fillets of chicken or lamb tikka dipped in marinated garlic, yoghurt & spices, roasted on flame
£7.95
Tandoori Chicken Half
One of the most exotic oriental specialities. Juicy chicken grilled to perfection
£6.95
Tandoori Chicken Full
One of the most exotic oriental specialities. Juicy chicken grilled to perfection
£9.95
Shashlik Chicken
Russian delicacy adopted & improved by the native of sub-continent. Chicken or lamb fillets, onion tomatoes & capsicums marinated in smooth spices, chargrilled
£8.95
Shashlik Lamb
Russian delicacy adopted & improved by the native of sub-continent. Chicken or lamb fillets, onion tomatoes & capsicums marinated in smooth spices, chargrilled
£8.95
Tandoori Mixed Grill
Served with naan. A galaxy of tandoori grills, simply hard to resist
£11.50
Tandoori King Prawn
Jumbo prawns rolled in tandoori spices & boiled on skewer
£11.95
Curry Chicken
Medium strength & lightly spiced with thick gravy
Medium
£7.25
Curry Meat
Medium strength & lightly spiced with thick gravy
Medium
£7.95
Curry Prawn
Medium strength & lightly spiced with thick gravy
Medium
£7.50
Curry King Prawn
Medium strength & lightly spiced with thick gravy
Medium
£8.95
Madras Chicken
Fairly hot dish, slightly spiced
Very hot
£7.25
Madras Meat
Fairly hot dish, slightly spiced
Very hot
£7.95
Madras Prawn
Fairly hot dish, slightly spiced
Very hot
£8.00
Madras King Prawn
Fairly hot dish, slightly spiced
Very hot
£8.95
Vindaloo Chicken
Very hot dish cooked with potatoes
Very hot
£7.50
Vindaloo Meat
Very hot dish cooked with potatoes
Very hot
£8.50
Vindaloo Prawn
Very hot dish cooked with potatoes
Very hot
£8.00
Vindaloo King Prawn
Very hot dish cooked with potatoes
Very hot
£9.00
Bhuna Chicken
Medium spicy, well cooked with thick gravy & tomatoes
Medium
£7.50
Bhuna Meat
Medium spicy, well cooked with thick gravy & tomatoes
Medium
£8.50
Bhuna Prawn
Medium spicy, well cooked with thick gravy & tomatoes
Medium
£8.50
Bhuna King Prawn
Medium spicy, well cooked with thick gravy & tomatoes
Medium
£9.00
Korma Chicken
A mild sweet dish cooked with grounds almond & coconut in a creamy sauce
£7.95
Korma Meat
A mild sweet dish cooked with grounds almond & coconut in a creamy sauce
£8.50
Korma Prawn
A mild sweet dish cooked with grounds almond & coconut in a creamy sauce
£8.50
Korma King Prawn
A mild sweet dish cooked with grounds almond & coconut in a creamy sauce
£9.45
Rogan Josh Chicken
A medium spicy dish cooked with herbs, plump tomatoes & spring onions & thick gravy sauce
Medium
£7.25
Rogan Josh Meat
A medium spicy dish cooked with herbs, plump tomatoes & spring onions & thick gravy sauce
Medium
£8.50
Rogan Josh Prawn
A medium spicy dish cooked with herbs, plump tomatoes & spring onions & thick gravy sauce
Medium
£8.50
Rogan Josh King Prawn
A medium spicy dish cooked with herbs, plump tomatoes & spring onions & thick gravy sauce
Medium
£9.45
Dansak Chicken
Slightly hot sweet & sour with lentils & herbs
Very hot
£7.50
Dansak Meat
Slightly hot sweet & sour with lentils & herbs
Very hot
£8.50
Dansak Prawn
Slightly hot sweet & sour with lentils & herbs
Very hot
£8.50
Dansak King Prawn
Slightly hot sweet & sour with lentils & herbs
Very hot
£9.45
Dopiaza Chicken
An elegant dish cooked with medium spice, garnished & extra onion
Medium
£7.25
Dopiaza Meat
An elegant dish cooked with medium spice, garnished & extra onion
Medium
£8.50
Dopiaza Prawn
An elegant dish cooked with medium spice, garnished & extra onion
Medium
£7.95
Dopiaza King Prawn
An elegant dish cooked with medium spice, garnished & extra onion
Medium
£9.45
Korai Chicken
Cooked with onion, capsicum, coriander & fresh herbs thick sauce (Medium)
Medium
£8.00
Korai Meat
Cooked with onion, capsicum, coriander & fresh herbs thick sauce (Medium)
Medium
£8.95
Korai Prawn
Cooked with onion, capsicum, coriander & fresh herbs thick sauce (Medium)
Medium
£8.50
Korai King Prawn
Cooked with onion, capsicum, coriander & fresh herbs thick sauce (Medium)
Medium
£9.45
Jalfrezi Chicken
Chopped onion, ginger, capsicum, tomatoes, green chilli & homemade special sauce (Very Hot)
Very hot
£8.00
Jalfrezi Meat
Chopped onion, ginger, capsicum, tomatoes, green chilli & homemade special sauce (Very Hot)
Very hot
£8.95
Jalfrezi Prawn
Chopped onion, ginger, capsicum, tomatoes, green chilli & homemade special sauce (Very Hot)
Very hot
£7.95
Jalfrezi King Prawn
Chopped onion, ginger, capsicum, tomatoes, green chilli & homemade special sauce (Very Hot)
Very hot
£9.45
Sagwala Chicken
Medium spiced, cooked with baby spinach (Medium)
Medium
£7.45
Sagwala Meat
Medium spiced, cooked with baby spinach (Medium)
Medium
£8.95
Sagwala Prawn
Medium spiced, cooked with baby spinach (Medium)
Medium
£7.95
Sagwala King Prawn
Medium spiced, cooked with baby spinach (Medium)
Medium
£9.45
Masala Chicken Tikka
As chicken or lamb tikka masala varies from house to taste of India (Mild)
£8.50
Masala Lamb Tikka
As chicken or lamb tikka masala varies from house to taste of India (Mild)
£8.50
Shatkora Chicken
Juicy pieces of chicken or lamb cooked with Calamansi citrus. A firm favourite of Bengal
Medium
£8.25
Shatkora Lamb
Juicy pieces of chicken or lamb cooked with Calamansi citrus. A firm favourite of Bengal
Medium
£8.25
Naga Murgh
Marinated chicken & herbs in a rich sauce with the unique aroma of the Bengali naga chilli (Very Hot)
Very hot
£8.50
Xacutti Chicken
Chicken or lamb, the most complex of all great curries, xacutti boasts over twenty ingredients each roasted individually prior to being ground, that contribute to its unique flavour & body. A speciality of exotic Goa (Very Hot)
Very hot
£8.25
Xacutti Lamb
Chicken or lamb, the most complex of all great curries, xacutti boasts over twenty ingredients each roasted individually prior to being ground, that contribute to its unique flavour & body. A speciality of exotic Goa (Very Hot)
Very hot
£8.25
Pasanda (Mild) Chicken
Thin fillets of chicken or lamb simmered in a mace of almond pistachios & flavoured with saffron
£8.50
Pasanda (Mild) Lamb
Thin fillets of chicken or lamb simmered in a mace of almond pistachios & flavoured with saffron
£8.25
Tandoori Mixed Masala
As chicken tikka masala varies from house to taste of India, chicken tikka, lamb tikka & seekh kebab. Recommended (Mild)
£9.95
Butter Chicken
Tiny pieces of chicken cooked in a blend of spices with cream & butter & topped with chef's special mild sauce (Mild)
£8.25
Tandoori King Prawn Masala
King prawns cooked in the tandoori oven mildly spiced & simmered in a combination of mixed herbs. Sweet basil & coconut cream. Recommended
£11.75
Garlic Chilli Masala Chicken
Barbecued chicken or lamb cooked with onion, green pepper flavour with special chef made garlic & chilli sauce (Very Hot)
Hot
£8.50
Garlic Chilli Masala Lamb
Barbecued chicken or lamb cooked with onion, green pepper flavour with special chef made garlic & chilli sauce (Very Hot)
Hot
£8.50
Mirchi Lamb
Sliced fillets of lamb selected with red pepper fresh ginger, herbs & chillies (Very Hot)
Hot
£8.25
Rezala Chicken
Tikka cooked in tandoori spiced sauce with fresh green chillies, diced onion & pepper
Hot
£8.50
Rezala Meat
Tikka cooked in tandoori spiced sauce with fresh green chillies, diced onion & pepper
Hot
£8.50
Set Meal For 1
1 Poppadom
Chicken tikka starter
Chicken tikka masala
Bombay aloo
Pilau rice
Plain naan
Salad & mint sauce
£16.95
Set Meal For 2
2 Poppadoms
Chicken tikka starter
Seekh kebab (2 pieces)
Chicken tikka masala
Lamb rogan josh
Mushroom bhaji
Muttar paneer
Pilau rice
Garlic naan
Salad & mint sauce
£27.95
Meal Deal A
1 Onion Bhaji
1 Chicken OR lamb madras
1 Bombay aloo
1 Pilau rice
1 Mint sauce
£12.95
Meal Deal B
1 Poppadom
1 Meat samosa
1 Chicken or lamb korma
1 Saag aloo
1 Pilau rice
1 Salad & mint sauce
£13.95
Meal Deal C
1 Poppadom
1 Onion bhaji
1 Chicken OR lamb karahi
1 Chana masala
1 Mushroom rice
1 Garlic naan
1 Mint sauce
£14.95
Chutney Tray
Mint sauce, mango chutney, mix pickle & onion salad
£1.95
Chutney Mango Chutney
Each
£0.70
Chicken Chilli Masala Balti
£9.50
Keema Naan
Leavened bread stuffed with seasoned minced lamb
£2.95
Peshwari Naan
Stuffed with almonds, coconut & sultanas
£2.95
Spicy Cheese Naan
Stuffed with cheese & crunched red chilli
£2.95
Kulcha Naan
Stuffed with mix vegetable & coriander
£2.95
Special Rice
Mixed with egg & green peas
£3.75
Kerala Egg Rice
Mixed with egg
£3.75
Vegetable Tikka Masala - Main
£6.50
Paneer Tikka Masala - Main
£6.50
Vegetable Dansak - Main
Medium
£6.50
Vegetable Jalfrezi - Main
Hot
£6.50
Vegetable Rogan Josh - Main
£6.50
Mixed Vegetable Curry Side
£4.75
Mixed Vegetable Curry Main
£6.50
Bombay Aloo Side
Spicy potato with fresh green herbs
£4.75
Bombay Aloo Main
Spicy potato with fresh green herbs
£6.50
Bhindi Bhaji Side
Fresh okra gently simmered in olive oil
£4.75
Bhindi Bhaji Main
Fresh okra gently simmered in olive oil
£6.50
Cauliflower Bhaji Side
With tomatoes & coriander
£4.75
Cauliflower Bhaji Main
With tomatoes & coriander
£6.50
Tarka Daal Side
Garlic based lentils in chef's own recipe
£4.75
Tarka Daal Main
Garlic based lentils in chef's own recipe
£6.50
Paneer Chilli Masala - Main
Indian cheese cooked with green chilli
Medium
£6.50
Baingon Aloo Side
Fresh aubergine cooked with onion, tomatoes & potatoes
£4.75
Baingon Aloo Main
Fresh aubergine cooked with onion, tomatoes & potatoes
£6.50
Aloo Gobi Side
Cauliflower & potatoes gently cooked in herbs
£4.75
Aloo Gobi Main
Cauliflower & potatoes gently cooked in herbs
£6.50
Mushroom Bhaji Side
Fresh button mushrooms
£4.75
Mushroom Bhaji Main
Fresh button mushrooms
£6.50
Brengol Bhaji Side
Fresh aubergine
£4.75
Brengol Bhaji Main
Fresh aubergine
£6.50
Saag Aloo Side
Spinach & potatoes flavoured with fenugreek
£4.75
Saag Aloo Main
Spinach & potatoes flavoured with fenugreek
£6.50
Chana Masala Side
Chickpeas & onion skillfully spiced
£4.75
Chana Masala Main
Chickpeas & onion skillfully spiced
£6.50
Mattar Paneer Side
Green peas & cheese with cream
£4.75
Mattar Paneer Main
Green peas & cheese with cream
£6.50
Saag Paneer Side
Mild spinach cooked with Indian cheese
£4.75
Saag Paneer Main
Mild spinach cooked with Indian cheese
£6.50
Contact Us
Find Us
334 Kennington Road, London, SE114LD
We deliver to
SE1, SE11, SE14, SE15, SE16, SE17, SE22, SE23, SE24, SE5, SW2, SW8, SW9